UCB's Commitment to Students Living with Epilepsy
Each year, UCB has the honor of awarding our UCB Family Epilepsy Scholarship to deserving individuals living with epilepsy, their family members, and caregivers to help them fulfill their dreams. We realize that to truly make an impact on patients' lives, we must go beyond developing and delivering medicines, and we are committed to helping patients and their families receive the financial support they need to live their best lives possible.
This is our 16th year offering financial support through our scholarship program, and each year we are amazed by the inspiring list of applications from people who choose to excel towards their future goals despite the uncertainties and challenges that come from living with a disease like epilepsy.
This year, UCB awarded 35 UCB Family Epilepsy Scholarships, including one $10,000 Joe D'Souza Memorial Scholarship, two $10,000 Epilepsy Leader Scholarships, and 32 $5,000 scholarships to support the educational goals and aspirations of individuals living with or impacted by epilepsy. Since 2005, we have awarded over $2.8 million in scholarships to more than 550 recipients. Awardees will be able to use the award funds towards their technical, undergraduate, graduate, or professional education.
The 2021 recipients of the Epilepsy Leader Scholarship - created in honor of the late Dr. Sandra Helmers and the late Dr. John M. Pellock, who were trailblazers in epilepsy research - are Leysla Barbosa of Houston, Texas, and Amanda Morris of Harrisonburg, Virginia. Leysla Barbosa is a first-generation college student, who was determined to make a change at her university and spearheaded a support group for students with disabilities. Amanda Morris leveraged her journey of navigating being a mother of three, two sons with autism and one with epilepsy, to give back by dedicating her time to helping other parents access resources for caring for a child living with epilepsy.
The 2021 recipient of the Joe D'Souza Memorial Scholarship, created in the memory of UCB's global medical director, was granted to Marjorie Fitzsimons of Tampa, Florida, for her humble persevering spirit, active engagement and contribution to those living with epilepsy, and desire to make an impact in the community. Marjorie founded the first-ever collegiate chapter of the Epilepsy Foundation at Florida State University and assisted with the organization of a second chapter at the University of South Florida.
In addition to this year's Epilepsy Leader and Joe D'Souza recipients, we are inspired by recipients like Yenyfer A. and Mariah Gillaspie who are pursuing degrees in STEM related to neurology to make a difference based on their personal journeys of living with or caring for someone with epilepsy.
"Facing the difficulties of epilepsy has not been easy but when I got admitted into my dream school I was thrilled. I am now a step closer to helping kids with epilepsy," said Yenyfer A. Yenyfer is a first-generation college student planning to attend the University of Colorado Boulder and pursue a degree in neuroscience.
Mariah is a caretaker for her two daughters ages two and four and is pursuing a nursing degree at Arapahoe Community College after working 10 years in computer science. "Like any parent, my life has changed since I had children. I never thought it would veer in such an extreme way. My children have shown me my passion, my calling. I know now how I can best serve the world and how I can truly make a difference," expressed Mariah Gillaspie.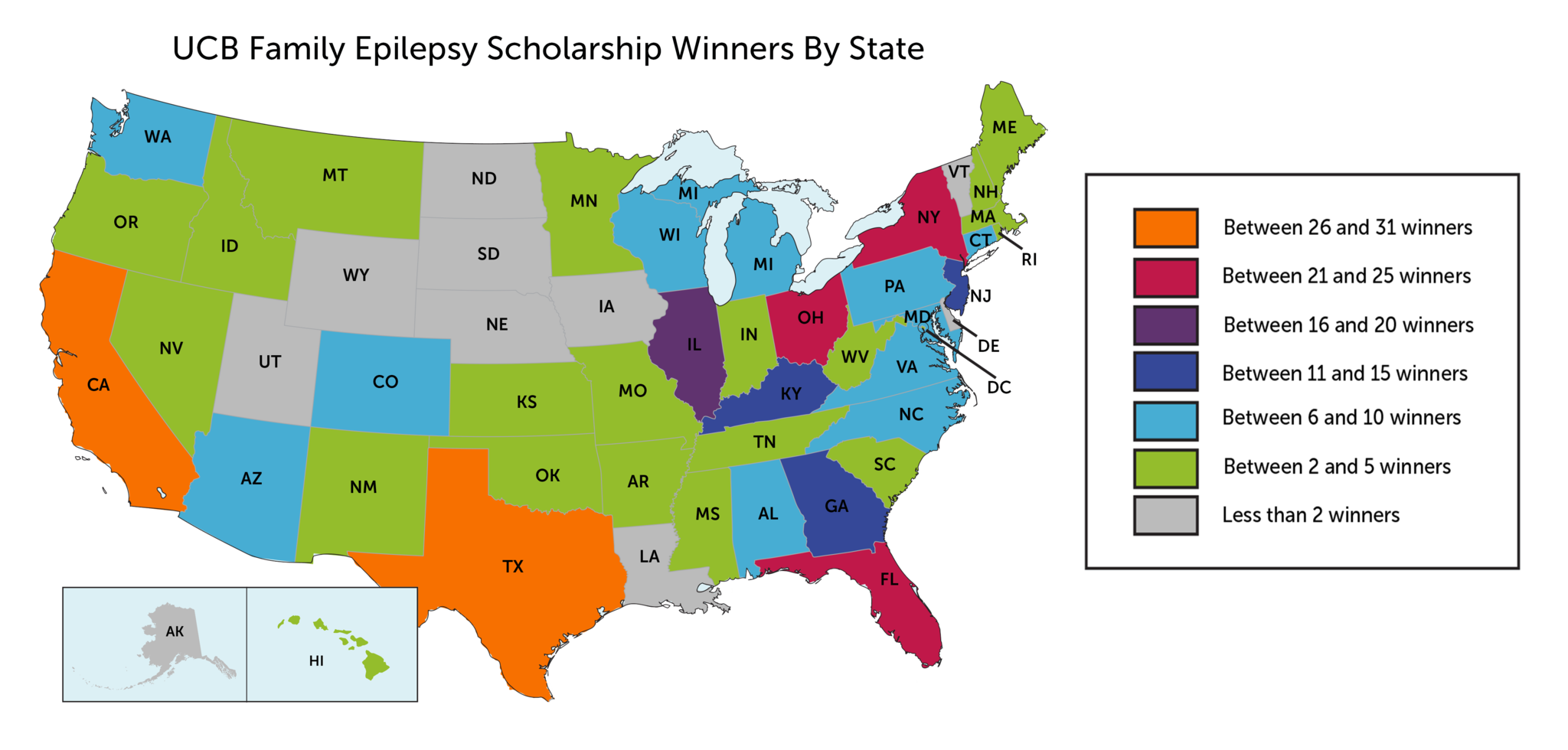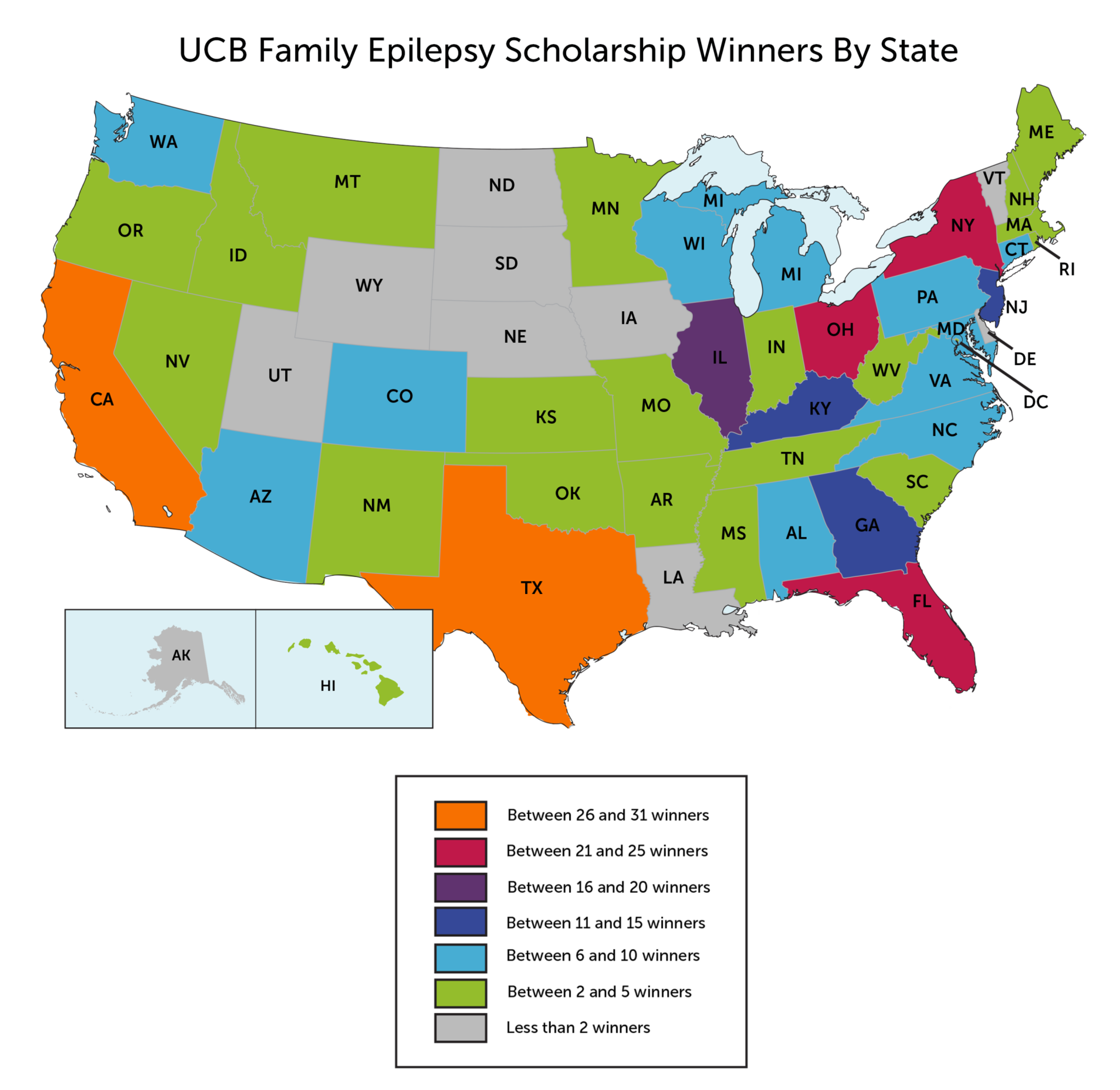 The 2021 awardees represent 21 states, with nearly half being graduating high school seniors and the other half currently enrolled in undergraduate or graduate programs. This year's winners will begin the academic year at 34 schools across the country pursuing degrees in law, human services, nursing, creative writing, and more. As part of the selection process, applicants share their personal experiences, academic pursuits, and community achievements as part of their application. A distinguished panel of people living with epilepsy, their caregivers, and medical professionals specializing in neurology then selected the 2021 recipients from a pool of more than 500 applicants from across the country.
"It has been my distinct pleasure to serve on the selection committee and participate in this inspiring process," said David Burdette, MD, of Spectrum Health Medical Group. "The stories and accomplishments of the individuals who apply serves as a source of inspiration, and I commend UCB for their support of educational pursuits in both persons with epilepsy and their caregivers."
The program is open to people living with epilepsy, their family members, and/or caregivers who demonstrate academic and personal excellence and are committed to supporting their local communities.
UCB is proud to support this year's winners in their future endeavors and wish the 2021 scholarship recipients success as they venture out on their collegiate journeys this fall. For more on the 2021 UCB Family Epilepsy Scholarship program and the application period which will open in November, visit https://www.epilepsyadvocate.com/family-epilepsy-scholarship.
2021 UCB Family Epilepsy Scholarship Winners
Marjorie Fitzsimmons, Tampa, Florida – Joe D'Souza Memorial Scholarship
Leysla Barbosa, Houston, Texas – Epilepsy Leader Scholarship
Amanda Morris, Harrisonburg, Virginia – Epilepsy Leader Scholarship
Yenyfer A., Greeley, Colorado
Morgan Ball
Clare Boegel, Delmar, New York
Tamara Brtan
Jeffrey Burke, Cambridge, New York
Cassandra Cyr, Keene, New Hampshire
Preston Fitzgerald, Flower Mound, Texas
Mariah Gillaspie, Centennial, Colorado
Piper Greer, Little Rock, Arkansas
Alivia Huhn, Monticello, Minnesota
Reed Jeffries, Birmingham, Alabama
Hadley Kronick, Baton Rouge, Louisiana
Christian Leonard, Kansas City, Missouri
Kathryn Lisiak, Buckeye, Arizona
Eric Marquez, Phoenix, Arizona
Lane McIntyre, Sammamish, Washington
Madison McWhorter
Dylan Miller, Charlotte, North Carolina
Anastacia Motherwell
Kaitlyn O'Connor, San Carlos, California
Olivia Pable, Neenah, Wisconsin
Rene P.
Leah Santolo, Putnam Valley, New York
Bethan Saunders, Jersey City, New Jersey
Cameron Short, Scottsdale, Arizona
David Stewart, Eastvale, California
Sara V.
Abraham Weitzman, Astoria, New York
Melissa West, Chambersburg, Pennsylvania
Aimee Xu, Fresno, California
*Note: Winners names and hometowns (if applicable) are included with their permission. Some winners opted not to have their names included in this announcement.
Winner Announcement Archive:
2020 Winner Announcement