UCB Grants Scholarships to People Living with Epilepsy
33 Winners of the UCB Family Epilepsy Scholarship demonstrate UCB's commitment to patients
At UCB, we are committed to breaking the barriers to better care for people living with epilepsy. One way we do this is by helping patients and their families receive the support they need to live their best lives possible. Since 2005, UCB has offered financial support through our annual UCB Family Epilepsy Scholarship and have awarded more than 500 scholarships to deserving recipients. Just like every other year since the scholarship's inception, we've received an impressive list of applications from people who continue to strive towards their goals and live with the complexity of a disease like epilepsy.
This year, UCB awarded 33 UCB Family Epilepsy Scholarships, including one $10,000 Joe D'Souza Memorial Scholarship, two $10,000 Epilepsy Leader Scholarships, and thirty $5,000 scholarships to support the educational goals and aspirations of individuals living with or impacted by epilepsy. Awardees will be able to use the award funds towards their technical, undergraduate, graduate, or professional education.
UCB awarded two Epilepsy Leader Scholarships in honor of the late Dr. Sandra Helmers and the late Dr. John M. Pellock, who were trailblazers in epilepsy research and treatment. This award recognizes individuals advocating for others, positively contributing to the epilepsy community, and embodying a persevering spirit. One Epilepsy Leader Scholarship was awarded to Julia Patterson of Round Top, Texas, who recently represented her high school senior class as valedictorian and spoke to the Texas House and Senate advocating for alternative treatment options for all seizure disorders. Laine Richards of Grand Rapids, Michigan, won the other Epilepsy Leader Scholarship for her work as an influential advocate for the Epilepsy Foundation of Michigan, raising more than $160,000.
Created in the memory of UCB's beloved global medical director, the Joe D'Souza Memorial Scholarship was granted to the one student who most exemplifies qualities Dr. D'Souza was known for, including a humble persevering spirit, and active engagement and contribution to those living with epilepsy throughout his career, and a desire to make an impact in the community.
UCB believes in partnering for the common good and asks members of the healthcare community as well as people living with epilepsy to serve on the judging panel for the UCB Family Epilepsy Scholarship.
"I'm delighted to be a part of the judging panel for the UCB Family Epilepsy Scholarship program and see first-hand how this amazing program has helped so many people and their families living with epilepsy. All of the winners are striving to overcome the challenges of living with epilepsy, while pursuing their education, and raising awareness within their communities," said Patricia A. Gibson, MSSW DHL ACSW, Director of the Epilepsy Information Service and Associate Professor of Neurology at the Wake Forest University School of Medicine. "The UCB Family Epilepsy Scholarship truly supports the epilepsy community, and UCB should be commended for their commitment to the long-standing program."
"The UCB Family Epilepsy Scholarship program is supporting an amazing group of students who have overcome limitations of epilepsy through performing arts, academic achievements, and epilepsy awareness activities," said Gregory Krauss, MD, Johns Hopkins Medicine.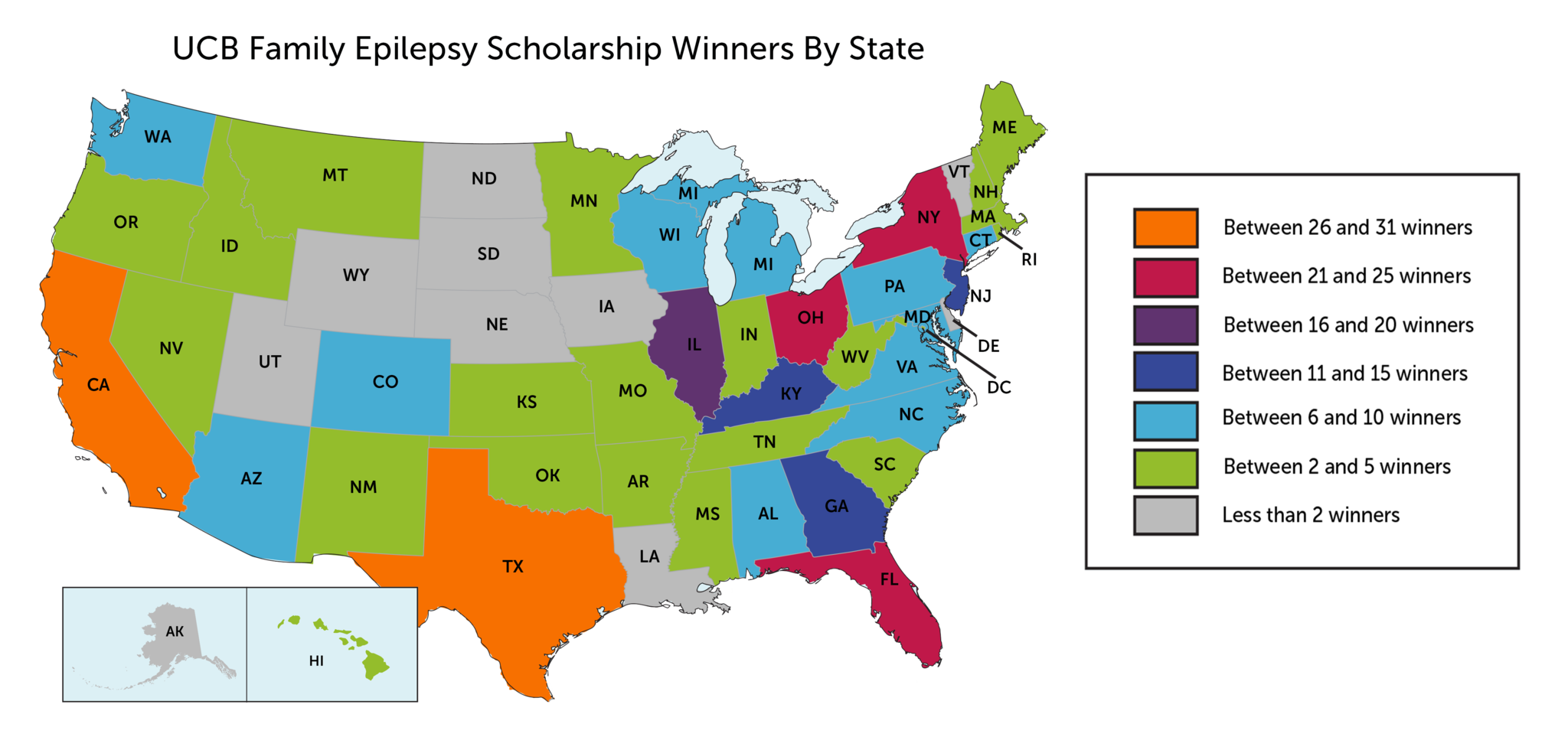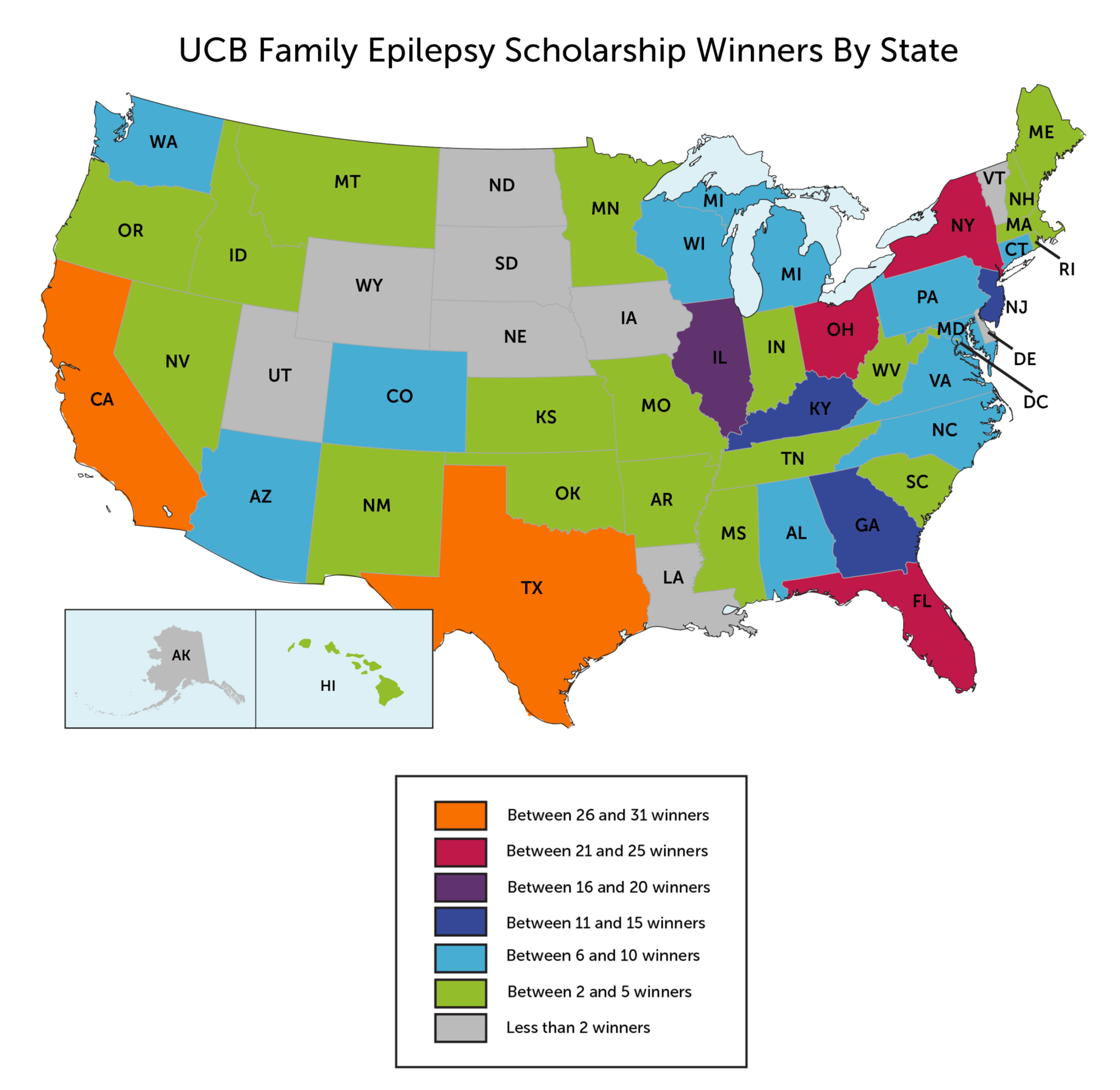 The 2020 awardees represent 20 states with nearly half being graduating high school seniors and the other half currently enrolled in undergraduate or graduate programs. This year's winners will begin the academic year at 32 schools across the country pursuing degrees in cyber security, social work, theatre, and more. Of the 33 awardees, 12 will be pursuing degrees in the medical field with 4 of the 12 pursuing degrees in neurology.
As part of the selection process, applicants share their personal experiences, academic pursuits, and community achievements as part of their application. A distinguished panel of people living with epilepsy, their caregivers, and medical professionals specializing in neurology then selected the 2020 recipients from a pool of more than 600 applicants from across the country. The program is open to people living with epilepsy, their family members, and/or caregivers who demonstrate academic and personal excellence and are committed to supporting their local communities.
Congratulations to this year's winners. UCB wishes the 2020 scholarship recipients' success as they continue their education this fall. For more on the 2021 UCB Family Epilepsy Scholarship program and the application period which will open in November, visit https://www.epilepsyadvocate.com/family-epilepsy-scholarship.
2020 UCB Family Epilepsy Scholarship Winners
Julia Patterson, Round Top, Texas - Epilepsy Leader Scholarship
Laine Richards, Grand Rapids, Michigan - Epilepsy Leader Scholarship
Kurtis Ashton, Harrison, Ohio
Jenna Barnes, Sheridan, Arkansas
Ashley Boland, East Rockaway, New York
Carson Braddock, Puyallup, Washington
Aubrey Brown, Sanford, Michigan 
Everett Crockett, Burien, Washington
Henry DeLisle, Decatur, Georgia
Bridget Drummey, Longmeadow, Massachusetts
Maddy Grady, St. Paul, Minnesota
Andrew Hamilton, San Antonio, Texas
Aaliyah Harrell, Greenville, Kentucky
Breanna Jaffe, Indianapolis, Indiana
Bethany Legendre, Thibodaux, Louisiana
Sergio Martinez, Oceanside, California
Eileen Meier, Ypsilanti, Michigan
Hayden Moneghan, Cape Coral, Florida
Joseph Quintana, Highlands Ranch, Colorado
Stephanie Regier
Caroline, Trussville, Alabama
Madelyn Samuel, Fort Mill, South Carolina
Ruth Schmitz, Willmar, Minnesota
Allison Splitstone, Elmhurst, Illinois
Daniel Stanley, Wauconda, Illinois
Shanley Stuteville, Arlington, Texas
Lauren Trebour, East Northport, New York
Megan Vielhauer, Scottsdale, Arizona
Eden Zakai
*Note: Winners names and hometowns (if applicable) are included with their permission. Some winners opted not to have their names included in this announcement.