How Winners of the UCB Family Epilepsy Scholarship Prepare to Go Back to School
As students and parents prepare for a new school year, there can be a lot of stress – from meeting new teachers and preparing for classes, to financial assistance and making new friends. For people living with epilepsy and their caregivers, the stress and worry surrounding back to school preparation is compounded.
UCB is committed to students and their families, extending beyond developing and delivering epilepsy medicines for the community. We are dedicated to educating stakeholders and patients about seizure action plans and rescue medications, developing real-world evidence collaborations and digital solutions, and listening to and learning from patients. For the past 18 years, we've also offered financial assistance through the UCB Family Epilepsy Scholarship to people living with epilepsy, their family members, and their caregivers.
This year, UCB awarded 33 UCB Family Epilepsy Scholarships to deserving students, including one $10,000 Joe D'Souza Memorial Scholarship, created in the memory of UCB's global medical director; and two $10,000 Epilepsy Leader Scholarships, created in honor of the late Drs. Sandra Helmers and John M. Pellock – who were both trailblazers in epilepsy research. An additional 30 students received $5,000 scholarships to support their educational goals and aspirations. Since 2005, we have awarded over $3 million in scholarships to more than 580 recipients.
We asked this year's winners how they prepare to return to school, and some themes emerged. Winners shared the importance of educating their teachers and fellow students about epilepsy, having a seizure action plan, and getting extra rescue medications just in case they have a seizure emergency and need to stop the seizure when and where it occurs so they can continue with class.
Colton Hepler, from Naples, Florida, shares, "Each summer, my family schedules an appointment with my neurologist before I go back to school, and this is typically where I get a refill of my rescue medications for the year. I speak with my teachers at the beginning of the year as well, explaining what my seizures look like because I do not have convulsive seizures. I want to make sure they understand that I am not being rude if I walk out of class because I might have a seizure."
Winner Ansley Spinks, a student from Marietta, Georgia, explains, "Before school each year, I update my seizure action plan, especially since my seizure activity has changed so much over the years. My school nurse had experience with seizures but many of my teachers did not. Together we came up with a few different plans to make sure I was safe and cared for."
Finally, Elizabeth Stout from Augusta, Michigan and a recipient of the Epilepsy Leader Scholarship, says:
"I do not have a traditional seizure action plan since I am able to respond to my seizures independently and do not generally need assistance. However, I have an 'explanation document' that contains information on my seizures such as how they will present, which I share with my teachers and other school personnel that benefit from the information. Luckily, I have never needed to use rescue medications for my seizures, but I do make sure to have a supply before returning to school."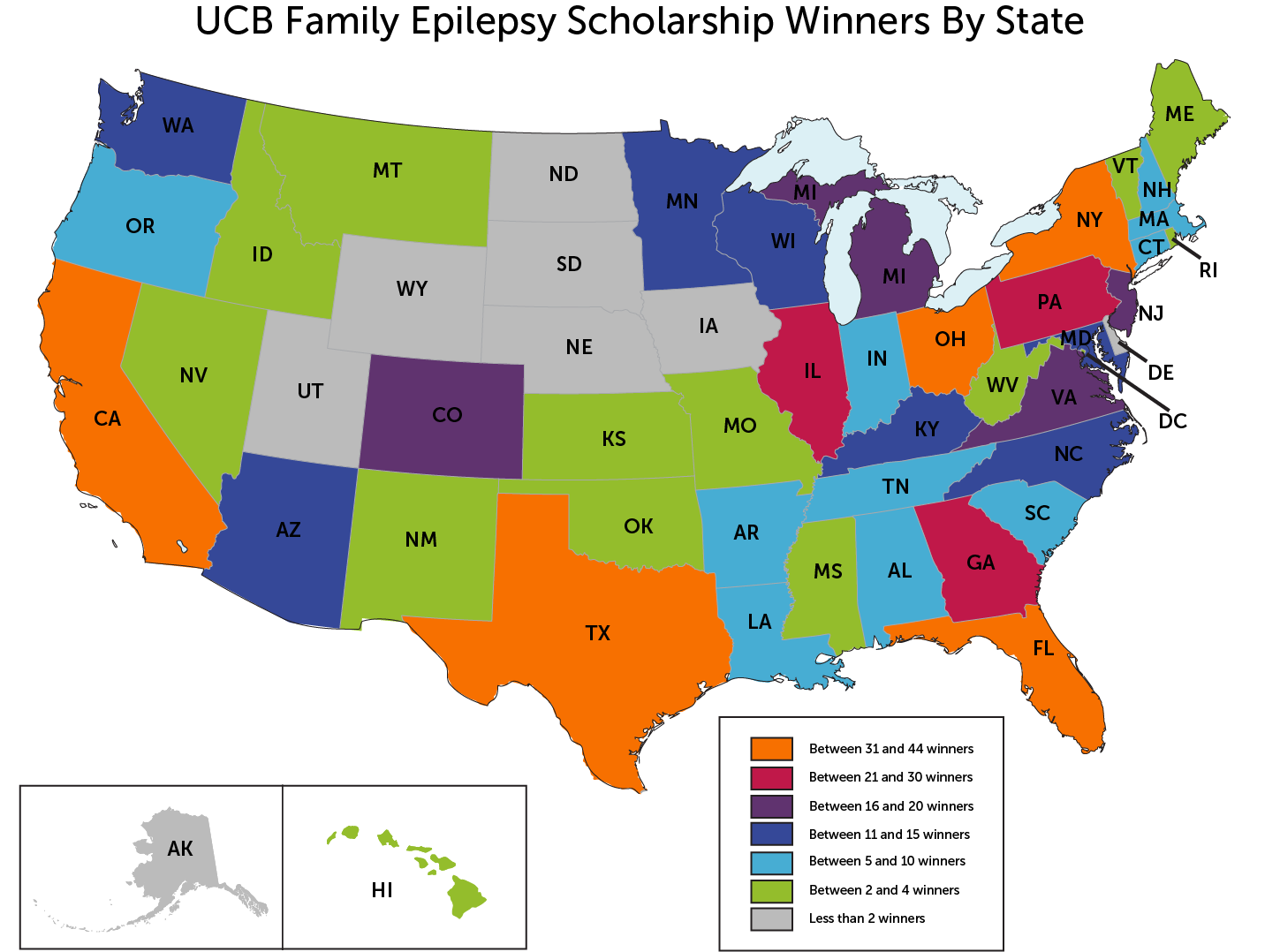 The 2022 awardees represent 21 states, with nearly half being graduating high school seniors and the other half currently enrolled in undergraduate or graduate programs. This year's winners will begin the academic year at 30 schools across the country pursuing degrees in law, human services, nursing, creative writing, and more. As part of the selection process, applicants share their personal experiences, academic pursuits, and community achievements as part of their application. A distinguished panel of people living with epilepsy, their caregivers, and medical professionals specializing in neurology then selected the 2022 recipients from a pool of almost 500 applicants from across the country.
"Every year, the team has an opportunity to personally connect with all 33 winners to let them know they've received a UCB Family Epilepsy Scholarship. It is truly one of the highlights of our year to hear their stories and accomplishments, and how the scholarship will enable their future aspirations and goals." said Brad Chapman, Head, U.S. Epilepsy and Rare Syndromes. "Having that close, personal connection to people living with epilepsy and their families grounds us in the immense responsibility we have to create and deliver solutions, including financial assistance for their future educational ambitions."
The program is open to people living with epilepsy, their family members, and/or caregivers who demonstrate academic and personal excellence and are committed to supporting their local communities.
UCB is proud to support this year's winners in their future endeavors and wish the 2022 scholarship recipients success as they venture out on their collegiate journeys this fall. For more on the 2022 UCB Family Epilepsy Scholarship program and the 2023 application period which will open in November, visit https://www.epilepsyadvocate.com/family-epilepsy-scholarship.
2022 UCB Family Epilepsy Scholarship Winners
Maria Lutz, Inlet, New York – Joe D'Souza Memorial Scholarship
Lauren Durant, Braintree, Massachusetts – Epilepsy Leader Scholarship
Elizabeth Stout, Augusta, Michigan – Epilepsy Leader Scholarship
Kyle Benson, Maywood, Missouri
Emma Borys, Weston, Connecticut
Kirsten C., Salem, Oregon
Bronwyn Dunn, Grove City, Ohio
Kellie Franklin, Jemison, Alabama
Autumn G., Arlington, Texas
Isabella Gregory, Fredericksburg, Virginia
Madeline Halloran, Marietta, Georgia
Colton Hepler, Naples, Florida
Benjamin Hosterman, Coopersville, Michigan
Arrington Krull, Milford, Indiana
Ellen Kurr, Winchester, Massachusetts
Sydney L., Morgantown, West Virginia
Ernesto Luna, Lubbock, Texas
Ella Mooers, Happy Valley, Oregon
David Moseley, Huntsville, Alabama
Devin Mulcrone, Vernon Hills, Illinois
Morgan Saltamachio, San Luis Obispo, California
Hannah S.
Ansley Spinks, Marietta, Georgia
Nick Vogt, Ridgefield, Connecticut
Elijah Williams, Kylertown, Pennsylvania
Callie W.
Megan Young, York, Pennsylvania
Allyson Zimmerman, Stevens Point, Wisconsin
Andrea Z., Pittsburgh, Pennsylvania
*Note: Winners names and hometowns (if applicable) are included with their permission. Some winners opted not to have their names included in this announcement.
Winner Announcement Archive:
2020 Winner Announcement
2021 Winner Announcement