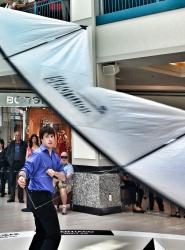 Living with epilepsy
2011 Scholarship Winner
School attended
Central Oregon Community College
My name is Connor. I am 28 years old; I live in Seattle, Washington, and was the recipient of the UCB Scholarship Award back in 2011. At age 4 I was diagnosed with epilepsy. I was having 30 to 40 petite mal seizures a day. I was told that I would never be able to attend regular school. This only got worse throughout my teenage years when I started having tonic seizures and grand mals. These experiences caused me to develop an anxiety disorder and a nonverbal learning disorder, as well as other cognitive issues that caused challenges for me in school and making friends. As a result I always felt like the black sheep of society and thought that I would never go anywhere in life.
In 2007, I began to take up kite flying. I found it to be very therapeutic as I was always surrounded by friends and fell in love with the sport. I developed a newfound confidence that I didn't have before. Between 2007 and 2010, I flew indoor and outdoor kites and performed at local venues in Oregon and Washington. In 2010, I decided to try to fly my indoor kites on the TV show America's Got Talent. Although most people (my parents included) thought it was a crazy idea, I decided to pursue my dreams and try it anyway.
The first time I walked out on stage was the first time I ever spoke publicly about my epilepsy. I ended up impressing the judges and coming in 12th out of 90,000 people. After America's Got Talent I performed and spoke at different venues across the country, and it was that kind of hard work and advocacy that allowed me to get the UCB Scholarship award in 2011, defying my doctor's expectations and allowing me to go to college.
I do not come from a very well-off family, and I was afraid about going into debt not knowing what my future held, so without UCB, I would not have been able to attend college. Since the scholarship award, I have reached beyond what was thought to be possible and graduated both high school and college in 2016 with honors. Since college I have been performing and speaking at different venues all over the world and have worked with different organizations all over the world, such as The Italian League Against Epilepsy. Due to Covid 19, traveling has been on hold for the past couple of years. However, I have still strived to meet my own expectations. I hold a full-time position where I analyze sales forecasts and predict future sales trends. I work with the team to assist others in reaching their full potential. I have UCB to thank for all this. In my free time, you can always find me at my local beach either kayaking or kite flying. It is important to know the illusion about other people controlling your lives based on their perception of you. You, and you alone, are in control of your future—no matter how hard it gets.