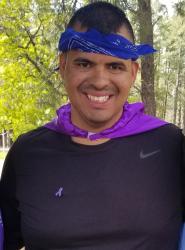 Living with epilepsy
2016 Scholarship Winner
School attended
Arizona State University
My name is Jose. I was born in Phoenix, Arizona, and was raised in the small town of Gila Bend, Arizona. I am the youngest of five siblings, but the only one who suffers from epilepsy. My parents are from Mexico. Having epilepsy has been difficult for me, because it has affected a vital part of my mobility—driving. This has robbed me of some of my independence. Driving is a privilege, and not everyone with epilepsy is able to drive.
The first thing that came to mind when I applied for the UCB Family Epilepsy Scholarship were two quotes: "Good things happen to people who try" and "You only live once." I applied for this program without expecting any outcome. After the completion of my bachelor's degree from Arizona State University in 2013, I felt that there were more things that needed to be learned and that this scholarship would bring me one step closer to making it happen. During the time of application, I was employed at the Macy's Distribution Center located in Goodyear, Arizona. Up to this day, I am still working there.
When I received a phone call that I was one of the scholarship winners, I was in a state of shock and disbelief. My dream of being close to furthering my education was finally coming true. My family and I were so happy. I had just gotten back from vacation when I received the good news. I wasted no time and registered for classes. To be more specific, I could only apply for two classes at Arizona State University because of the cost. However, it all worked out in the end, because the classes that I took helped me gain a better understanding of what I want to explore as a future profession.
Since being awarded the scholarship, my life has changed. I was encouraged by the Epilepsy Foundation of Arizona to consider becoming a camp counselor for their annual camp called Camp Candlelight. I didn't have to think twice about this opportunity, because I had only attended a church-related camp. Since I lived out in a rural community where the nearest grocery store was 12 miles away and my father was always working, there was no time for fun or outings such as this. Like the quotations I used for the scholarship, I accepted the foundation's invitation to Camp Candlelight. I felt welcome because I was not the only person that was going through epilepsy, many campers and some counselors were as well. From that weeklong camp, I learned so much about the medical condition and even made so many friends. I do not regret accepting that invitation to camp. If it was up to me, I would go every summer if possible. Last year was the only exception and that was due to the COVID-19 pandemic we are currently experiencing.
Overall, this scholarship has helped me better myself not just academically, but in my everyday journey as well. I refuse to give up on life. No matter how difficult it may be. I am thankful for this program, because it has given me hope to continue my studies in the near future. Thank you!