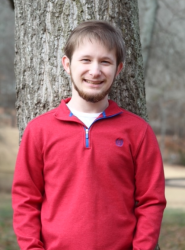 Living with epilepsy
2018 Scholarship Winner
School attended
University of North Georgia
The year 2018 was an exciting year for me as I graduated from high school, completed my first semester at the University of North Georgia and won the UCB Family Epilepsy Scholarship. My name is Spencer, and I have had epilepsy since the age of 3 after suffering a stroke at birth, which led to doctors saying I would never walk or talk. I went through physical and occupational therapy for several years and eventually proved the doctors wrong with hard work and a supportive family. There have been peaks and valleys, but eventually with the assistance of the right doctor and finding the right medicine, I was not only able to get my epilepsy under control but adopted a life-long philosophy that I would not let epilepsy control or define me.
College expenses can sometimes seem overwhelming with expected and unexpected costs that inevitably come up. Applying for the UCB Family Epilepsy Scholarship was an excellent choice that I do not regret. In fact, with the help of this and other scholarships, I had almost no cost or debt to attend my first two years at the University of North Georgia.
When I initially won the UCB Family Epilepsy Scholarship, I was extremely happy and felt fortunate that the selection committee could see and appreciate all the hard work I had done academically and to support the epilepsy community. While I was excited, I was also a bit nervous thinking about all the change that was going to happen as I transitioned from high school to college. The one thing that made all this easier was knowing I would not have to worry about financing my education for at least the first two years. The first year I even had enough money left over that I was able to pay for my books. I will always be grateful for the support of UCB and the Family Epilepsy Scholarship.
Fast forward three crazy years, and I have finished my associate's degree in journalism and have started my bachelor's degree in film and digital media with a media studies concentration. I have been fortunate enough to write and have multiple articles published by the school newspaper. I also got my first part-time job working at the Statham Library. Working in an environment surrounded by books is almost a dream come true. It also looks like if things go as planned, I am three short semesters away from graduating with my second degree.
I have continued to work as an Epilepsy Advocate by serving on the editorial board, participating in film shoots, and recently was featured in an article in the EpiilepsyAdvocate magazine. These are always great opportunities to connect with friends I have made over the past 15 years while continuing to work toward educating people on what it is like to have epilepsy.
Overall, I would say the future looks bright for me, because I have a support network of family, friends, providers, and the UCB family to help me navigate the next steps of my journey.